During National Curb Appeal Month, experts at Fypon suggest trimming out a house "from the top down" with low-maintenance urethane products to add curb appeal.  By http://www.prweb.com/releases/2014/08/prweb12118146.htm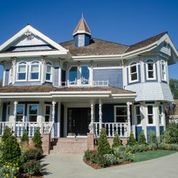 Decorative Fypon millwork and trim on California home.
Maumee, Ohio (PRWEB) August 26, 2014
Start at the top of the home with gable vents and louvers, then make your way down with decorative millwork, window and door trim, followed by a balustrade system and porch columns. According to experts at Fypon, trimming out a house "from the top down" with low-maintenance urethane products is a growing trend for busy homeowners looking for easy-care home exteriors and a great way to add curb appeal.
"Today's homeowners are selecting products for the outside of the home that are long-lasting and require minimal upkeep," says Anita Piety with Fypon. "Urethane and PVC products perfectly match the needs of consumers who are looking for stylish home enhancements that resist moisture, insects, cracking, peeling, rotting and warping.
"These products come with several finish options, including smooth, timber and stone cast, all primed and ready to paint or stain. The options encourage people to personalize their home exteriors with products that complement their home's design while reaping all the benefits of durable, low maintenance materials."
Top Down Accessories for the Home
At the roofline of the home, Piety recommends gable vents and louvers that come in shapes (such as octagons, cathedral, triangle and oval) and sizes to fit most openings. Functional venting louvers feature corrosion-resistant screens to help keep insects out of the home and angled slates to protect interiors from rain while still encouraging ventilation.
Fypon® window and door trim products include pilasters, pediments, crossheads and shutters that enhance key elements of the home exterior. "The windows on the front of a home gain tremendous curb appeal when accented by mouldings, a crosshead, trim and a window panel," says Piety. "Similar pieces — plus pilasters and pediments — can transform a ho-hum entryway into a stunning grand entrance for a home."
To add the ultimate finishing touch to eaves and window areas on the exterior, Piety recommends incorporating brackets, dentil blocks and corbels. These pieces can be positioned under showcase window areas and on porches, and are also typically found under the roofline of a home. A trellis system installed above the garage door or a secondary entryway of the home carries through the decorative elements on the exterior.
"One of the best uses of low-maintenance products I've seen comes when people are adding balustrade systems, column wraps and columns to a home exterior," says Piety. "These are products that in the past were made only of wood, requiring endless hours of scraping and refinishing on a regular basis. Now, with an abundance of PVC and urethane options in these product categories, homeowners can almost forget about maintenance woes. An occasional washing is all that's needed to keep these products looking fresh and new year after year."
Top Down Colors on the Home
Since Fypon products come with a pre-primed surface ready to stain or paint, the lightweight products are an ideal way to add "top down" color to the home exterior. According to national color expert Kate Smith, author of the ebook FRESH Color Schemes for Your Home Exterior, colorful touches on accent pieces can unify the look of a home exterior.
"Painted crossheads or pediments that sit above windows or doors can help draw the entire color palette together for a home while providing instant curb appeal," says Smith. "While white trim is always striking on a home and can be a great contrast to darker colors, you can paint mouldings, brackets, trellis systems or louvers in a wide array of colors to truly highlight your home exterior. For example, a home with an overall green palette could use cream- or driftwood-colored accent pieces. Or, a Victorian-style home could use mouldings in shades of fuchsia or purples to set off its trim.
"There are so many wonderful color combinations that are striking on different styles of homes. The thing I really like about adding the Fypon products to the home exterior is that these are detailed, architecturally-accurate millwork pieces that give a homeowner unlimited ways to embellish a home's exterior."
The specific home styles addressed in the FRESH Color Schemes for Your Home Exterior guide include Ranch, Colonial, Bungalow, Victorian, Spanish Mission, European and New American. Smith offers several color combinations for each style's exterior along with tips for making homes complement their neighborhood settings. The comprehensive and colorful ebook is available for free at http://www.fypon.com/design/.
Fypon offers thousands of decorative millwork elements in a variety of architectural styles to enhance the interior and exterior of homes. Each piece is crafted from tough, weather-proof, high-performance materials that are resistant to decay, insect infestation and water damage for long-lasting beauty and low maintenance. Part of consumer products company Fortune Brands Home & Security, Inc. (NYSE: FBHS), Fypon, LLC is owned by Therma-Tru Corp. For additional information, call 800-446-3040 .